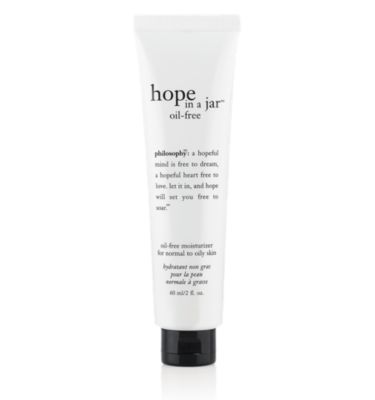 Philosophy
makes a few variations on their
"Hope in a Jar" moisturizer
(60ml/$39.00), and I purchased the oil-free version because I have acne-prone skin. This version is formulated to be lightweight, and easily absorbed. It is supposed to go on matte and keep your pores clear, and your skin soothed.
This facial moisturizer is by no means cheap, and I find the scent of it to be particularly off-putting. It smells very chalky, and the scent completely lingers on the skin and is noticeable after application. On top of this, I do not find this cream to be very moisturizing. In fact, I have been applying two layers of it in the mornings, and then two more at night. Maybe this will work better for me in the summer time when my skin is more greasy, because at this point I am finding it unsatisfactory for keeping my skin well-moisturized. I am almost finished with my
LUSH Vanishing Cream
, and once it is gone I had planned to switch fully over to Hope in a Jar, so I have started using it occasionally to phase it into my skin routine. The scent is such a killer for me. I will keep using it and see if my skin starts to like it more. I might need to use a heavier cream until summer time. Hope in a Jar Oil Free reminds me a lot of
Enzymion
facial moisturizer by LUSH in its lightness and in how it goes on matte. Too bad it doesn't smell nearly as good ;)
Overall, my opinion on this cream is that it absorbs easily into the skin, and it leaves a matte finish as promised. If you have very greasy skin, you will love this cream. However, if you have combination skin like me, you might find this cream to lack the heaviness you need for the dryer parts of your face. The scent is also displeasing. Since phasing this into my skin care routine, I have not experienced any more break outs than usual, so I would say that it is not acne-triggering.
What are your thoughts on this cult-classic? It seems everyone knows someone who has tried it or swears by using Philosophy's Hope in a Jar.
--S